ECONOMY STORAGE TENT


Economy - aesthetic tents with a wide range of applications!
IN THE INDUSTRY FROM 2004 - SOLID AND THOUGHT PRODUCTS GUARANTEED

Why do you buy a solid product?

Tarpaulin:

PVC approx. 550g / m²



Ø steel connector:

about 42 mm

Ø steel pipes:

about 38 mm

Hot-dip galvanized steel construction
Bolted construction
2x2m side walls can be mounted individually

PRODUCT DESCRIPTION: TARPAULIN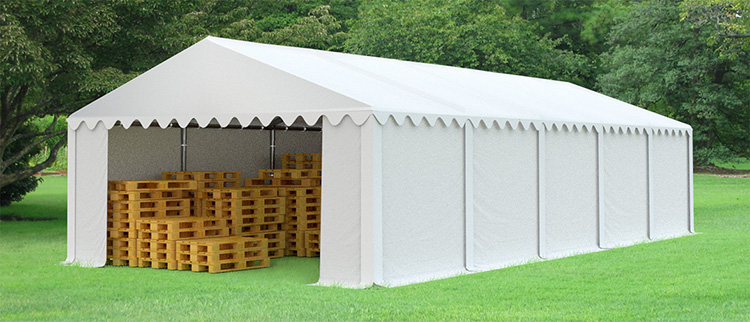 STORAGE TENT WITH MULTIPLE ACCESSORIES





Comfortable and easy to open the entrance
On both sides of the tent there is a large entrance equipped with zippers - a big plus in everyday use.
2x2m side walls can be mounted individually
With just a few clicks, you can create more entries by simply removing one or more side panels. This is a clear advantage over the side walls made in one piece.
Tailored to individual needs
The modular sheathing structure allows for many variations in the arrangement of the tent: from completely closed to completely open. This allows you to tailor the tent to your needs. This solution gives you the opportunity to create an entrance from any side of the tent.
Do you want to expand the space of the tent hall? Nothing easier. It is possible to connect tents from the gable or side.
It is possible to order individual elements of plating in various variants, such as, walls with windows or full walls.
Easy to attach tarpaulins

The side walls and gable elements are quickly and easily attached to the string with elastic rubber loops.


PRODUCT DESCRIPTION: CONSTRUCTION
Steel structure protection by galvanizing
The whole structure is hot-dip galvanized.

Steel connector Ø approx. 42 mm
Steel connectors are made with a diameter of about 42 mm

Steel pipes Ø approx. 38 mm
Steel pipes with a diameter of approx. 38 mm

The bolted construction

Individual elements of the structure are connected with each other by means of through bolts.

DELIVERY AND ASSEMBLY





Tent components included
Steel structure

Rope reinforcements
PVC roof tarpaulin
Two inputs with the ROLL UP system
Side walls
A set of mounting rubbers
Endurance bolts
Additional elements in delivery
A set of mounting brackets fastening the tent tarpaulin to the ground
Pins for fixing top and side elements
Dimensions
base 6x10m - 60.00 m²
sides height approx. 2.0 m
ridge height about 2.9 m
gate size approx. 2.0 x 2.0 m
entrance width approx. 2.0 m
entry height approx. 2.0 m
Assembly
Fast and simple
Everything is included - you do not need additional tools
Detailed instructions enriched with accurate drawings will facilitate assembly
Economy storage tents - realizations





dimensions
width
600 cm
length
1000 cm
sides height
200 cm
height
300 cm
gate size
ok. 450 x 200 cm
amount of cartons
6
Storage tent 6x10m, white PVC, economy
Brand: ROT SERVICE
Product Code: Namiot magazynowy 6x10m, PCV biały, economy
Availability: In Stock
4,300.00 zł

Ex Tax: 3,495.93 zł
Related Products
Tags: storage tent, 6x10, white PVC, economy
Recently Viewed