Possibilities of use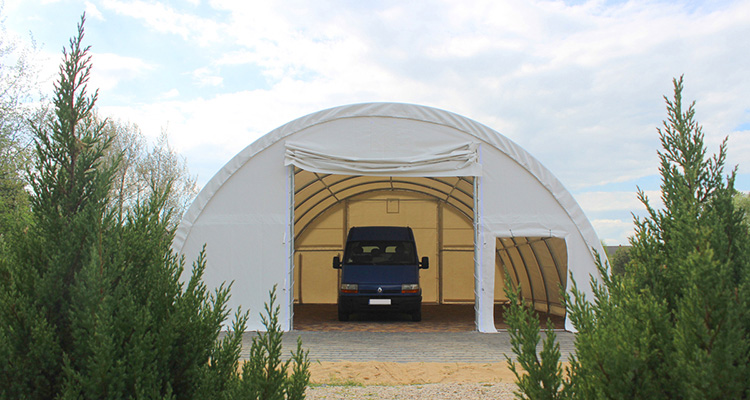 Quick creation of necessary warehouses or production halls


Temporary roofing for trucks, boats, machines, cars or motorcycles

Ideal for storage needs in agriculture and forestry

Attractive sales or exhibition halls, for example at trade fairs

An attractive alternative in terms of economy and construction


Why do you buy a solid product?


Size selectable: 9.15x12 m to 9.15x26 m


PVC tarpaulin with weight of approx. 720 g / m²

Class B1 flame-proof material


Smaller entrance for quick use

The ventilation window prevents condensation

Convenient "EASY UP" opening system

3 YEAR WARRANTY for a closed, properly mounted PVC tarpaulin

Supporting construction made of pipes with a wall thickness of approx. 2.0 mm
Construction
The large main gate can be opened upwards with the practical EasyUp rack and pinion winch


In addition, the hall has a practical pedestrian entrance at every summit

Fully galvanized frame with steel pipes:

diameter: approx. 76 mm vertically / approx. 60 mm horizontally

wall thickness: approx. 2 mm vertically / approx. 1.5 mm horizontally

Vertical steel pipes are joined together and double bolted

Horizontal steel pipes are bolted to vertical arches

Flat head screws with a self-locking nut are used for joining

Depending on the ground, each hall vault support is mounted with three anchors to hard or soft ground

Installation for both floor types is included in the order

Delivery in stable wooden crates with a metal frame
Proven statics

Static analysis carried out by a professional engineering company


The order includes a ground connection system


PVC tarpaulin with 720g / m2 basis weight


The tarpaulin is made of PVC material (720 g / m²)


3 years warranty for closed, properly mounted PVC tarpaulin

UV resistant and waterproof

Fireproof PVC material class B1

Roof tarpaulin in one piece

Brass eyelets

Includes a ground cover that acts as an effective fairing

Professional belt tensioning system on a steel frame

A ventilation window located in each gable wall provides the hall with natural air circulation

The prestressing rope in the gable walls keeps the roof tarpaulin in perfect shape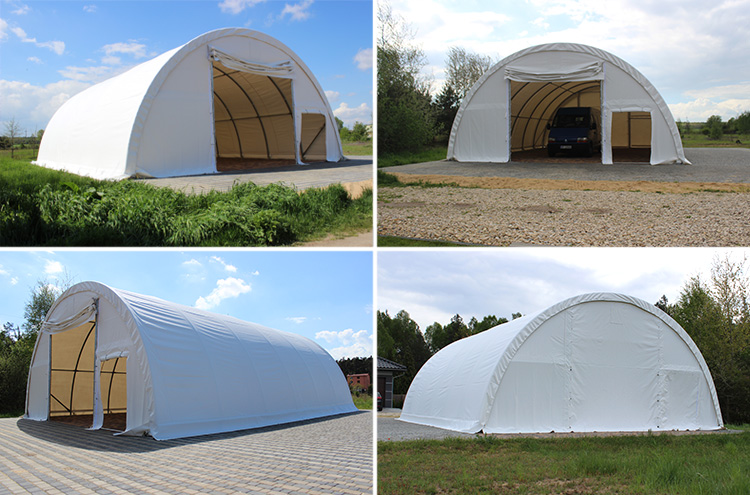 You buy fireproof PVC material, certified according to:

PL – EN 13501-1

D – DIN 4102 – B1/B2

F – M1/M2

DK, S, N – SIS 650082

A – EN 13501-1

CH – BKZ 5.2
Dimensions
foundation 9.15x12m - 109,80 m²

ridge height approx. 4,5 m

gate size approx. 3,5 x 3,5 m

the size of the entrance for people1,5 x 2,0 m

Assembly

Nothing easier!

You can save time and nerves thanks to the easy installation
Everything included: no additional tools are needed for assembly


Easy-to-understand instructions and pipe markings allow for quick and uncomplicated installation
dimensions
width
915 cm
length
1200 cm
height
450 cm
gate size
ok. 350 x 350 cm
Arch hall 9.15x12m, PCV gray
Brand: ROT SERVICE
Product Code: Hala łukowa 9.15x12m, PCV szary, Namiot o konstrukcji łukowej
Availability: In Stock
27,900.00 zł

Ex Tax: 22,682.93 zł
Related Products
Tags: storage, arch hall, 9.15x12, gray
Recently Viewed